The Gallardo Spyder at Tokyo Motor Show
Following its launch at the Frankfurt Motor Show, the Gallardo Spyder
will be the principal attraction on the Lamborghini stand at the Tokyo
Motor Show.
Created at the Centro Stile Lamborghini in Sant'Agata Bolognese, the
Gallardo Spyder is equipped with a soft top operated via an electronic
control system with electrohydraulic actuators. The whole operation
takes just over 20 seconds.

Thanks to its 5 litre powerplant with 520 hp (382 kW), the Lamborghini
Gallardo Spyder reaches a top speed of 314 km/h, accelerating
from 0 to 100 km/h in 4.3 seconds.

Just like its sister Coupé, the Gallardo Spyder benefits from aluminium
bodywork and features permanent four-wheel drive.

The success of the Gallardo Spyder has been immediate worldwide. All
of the 2006 production run, almost 800 units, has been already sold, with
Japanese customers amongst the initial group of buyers.
Japan represents about 9% of global sales for Automobili Lamborghini.
The representative office is Automobili Lamborghini Japan, which
coordinates the activities of 6 dealers located in Tokyo (2), Nagoya,
Osaka, Hiroshima and Fukuoka.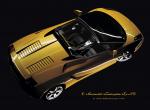 Sant Agata Bolognese, 17th October 2005