Postée par admin le mardi 11 septembre 2007 à 18:13

Automobili Lamborghini presents the new Lamborghini Reventón at the Frankfurt Motorshow 2007
The essence of the marque: just 20 examples of a design masterpiece

Clearly a Lamborghini, but nothing quite like it. A super car without equals: The Lamborghini Reventon is a road vehicle with an extreme specification and, at the same time, a limited edition masterpiece - a coherent style, angular with sharp lines, inspired by the very latest aeronautics.

With just 20 produced, each Lamborghini Reventon is a symbol of extreme exclusivity, yet still offering the extraordinary performance that makes the Murcielago LP640 so unrivaled: under the completely autonomous design, the Reventon possesses the entire technical and dynamic competence of the twelve cylinder Lamborghini.
Lamborghini prides itself on being the extraordinary manufacturer of extreme super cars without compromise. Sensuality and provocation characterizes every Lamborghini, with an aggressively innovative style. "However, the Reventon is the most extreme of them all, a true automotive superlative. Our designers at the Lamborghini Style Center took the technical base of the Murcielago LP640 and compressed and intensified its DNA, its genetic code," affirms Stephan Winkelmann, chairman and CEO of Automobili Lamborghini, S.p.A. ...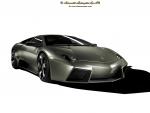 Commentaires (0)




Postée par admin le vendredi 15 juin 2007 à 17:54

Le Guiness book et Lamborghini Suisse flirtent ensemble
pour le plus grand plaisir des enfants handicapés
En effet, la Colonie Italienne de Porrentruy tentera de battre
le record du monde du plus grand Tiramisu le samedi 30 juin &
le dimanche 1er juillet 2007.
Lamborghini Porrentruy s'associe à la manifestation et organisera
de petites balades en Lamborghini pour les enfants handicapés.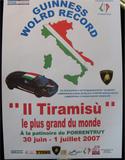 Pour plus de renseignements :
www.lamborghinisuisse.ch
Commentaires (0)




Postée par admin le jeudi 24 mai 2007 à 03:53

The Italian Post issues a commemorative stamp celebrating the Lamborghini Miura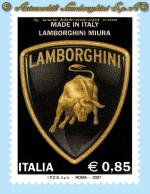 Today, another chapter in Lamborghini's history was written, with a ceremony to announce a stamp dedicated to the Lamborghini Miura, featuring a reproduction of the distinctive Sant' Agata Bolognese mark: the raging bull on a black background.
The announcement ceremony was hosted by Lamborghini's President and Chief Executive Stephan Winkelmann, in the presence of the Director of the Poste Italiane and other local dignitaries and the public. The attendees also enjoyed an opportunity to visit the factory and the museum and received a special edition 'first day cover'.
The public can also obtain the first day cover, which comes with a booklet introducing the stamp and the legendary Lamborghini story, signed by Stephan Winkelmann.
The stamp is available to the general public from today, and is a formal recognition of Automobili Lamborghini by the Poste Italiane. The Lamborghini stamp belongs to the 'Made In Italy' series with an anticipated production of around 3,500,000 stamps.
Sant'Agata Bolognese, May 23th 2007
Commentaires (0)




Postée par admin le vendredi 18 mai 2007 à 20:27

Automobili Lamborghini at the Kiev Automotive Show 2007

The exclusive supersportscar manufacturer of Sant'Agata Bolognese / Italy is for the first time officially presented in Ukraine

Automobili Lamborghini will be officially presented for the first time in Ukraine at the Kiev Automotive Show 2007, which runs from May 18th-22nd, 2007.

On show will be Automobili Lamborghini's exclusive Supersportscar range with particular highlights being the newly introduced Gallardo Superleggera, following its world premiere at Geneva Motorshow in March 2007. Furthermore, Automobili Lamborghini presents the Murciélago LP640 Coupè and the Gallardo Spyder.

The extreme Gallardo Superleggera sports car is displayed in the colour grigio telesto (dark grey) on the Lamborghini Stand in the first Hall, alongside the Murciélago LP640 Coupe coloured in nero noctis (black). No less attractive is the Lamborghini Gallardo Spyder, which completes the line-up from Automobili Lamborghini at the Kiev Automotive Show 2007. Visitors to the Lamborghini stand will also be able to view the range of exclusive apparel and accessories from Lamborghini's ArtiMarca merchandise range.

--->


Commentaires (0)




Postée par admin le vendredi 30 mars 2007 à 19:52

LAMBORGHINI MAGAZINE TWICE AWARDED WITH MERCURY AWARD IN GOLD
AUTOMOBILI LAMBORGHINI WINS MERCURY AWARD SECOND YEAR IN A ROW FOR EXCELLENCE IN MAGAZINE PUBLICATION
Automobili Lamborghini, received twice the coveted Mercury Award in Gold for their exclusive customer magazine In the categories"Design" and "Magazine – External" The 20th annual International Mercury Award was given to communications professionals who exhibit creativity, originality, and clear communication of key messages for their particular organization or brand. Developed, created & published together with the German Agency KoeckritzDoerrich, the Lamborghini Magazine is intended to be highly emotional and to consistently communicate brand experiences. "The core values of Lamborghini are described as "Extreme, Uncompromising and Italian", and this as well counts for our Magazine. We are proud to win this prestigious award for the second time." stated Stephan Winkelmann, President and CEO of Automobili Lamborghini S.p.A. ,
Commentaires (0)





Page : < 1 2 3 ... 22 [23] 24 ... 30 31 32 >