Postée par admin le Monday 28 January 2013 à 13:25

Rajouts de Photos-Gallardo Super trofeo 2013 - Merci a www.imperialegroup.it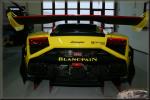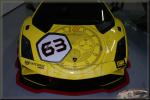 d'autres photos , un clic sur l'image:
Commentaires (0)




Postée par admin le Sunday 27 January 2013 à 07:21


Lamborghini announces commitment to GT3 program with Reiter
Engineering, with new GT3 car for 2013 and 2014


Automobili Lamborghini has announced a new GT3 motorsport program. The long-term agreement will
commence with a new car for the 2013 and 2014 seasons: the Lamborghini
Gallardo GT3 FL2, developed by Reiter Engineering in cooperation with Lamborghini?s R&D motorsport department.
Based on the new Gallardo MY13, a focus of the new GT3 FL2?s development is on long-distance performance and includes ?24-hour? brakes, improved engine cooling and reduced fuel consumption. The car features a highly efficient aero kit, a new front splitter, a rear carbon diffuser based on that developed for the Super Trofeo and an overall improved power to weight performance, with the GT3 FL2?s weight reduced by 25kg over the previous Gallardo GT3.



The Lamborghini Gallardo GT3 FL2 by Reiter has already proven
exceptionally low running costs, setting a benchmark with only ? 9/km to ? 12/km parts rebuild costs.
The GT3 FL2 is priced at ? 320,000 euro plus taxes.
Although German-based Reiter Engineering has successfully developed its own Lamborghini GT cars since 2000, securing 199 victories and 350 podium positions within GT championships since 2007, this is the first time a GT3 contender will be co-developed in direct collaboration with Lamborghini.
"We are delighted to announce a minimum five-year agreement with Reiter Engineering as our exclusive development and supply partner for Lamborghini GT3 cars, based on Reiter?s strong engineering skills, passion for and understanding of the Lamborghini brand and, of course, obvious racing success,"said Stephan Winkelmann, President and CEO of Automobili Lamborghini." We are committed to supporting racing in Europe and Asia in 2013 with expansion into the USA in 2014: GT3 racing, together with our highly successful mono marque Lamborghini Blancpain Super Trofeo series in Europe, Asia and this year the USA, are a clear fit with the Lamborghini brand, where we take the prowess of our super sports cars from the road to
the track." First confirmed deliveries of the new Lamborghini Gallardo GT3 FL2 to teams in Europe and Asia will commence in March 2013, participating in series ncluding the Blancpain Endurance Series, the Asia Le Mans Series and the talian GT3 Championship.
An expanded in-house motorsport team within Lamborghini?s R&D
department will oversee the GT3 race programme, under the guise of
Lamborghini Squadra Corse: a department dedicated to motorsport including T3, the Lamborghini Blancpain Super Trofeo series, and a customer driving Pogram.

From 2013, the Squadra Corse will provide an integrated approach to
Lamborghini driving experiences. A new series of ?Esperienza? events provide nthusiasts and prospects with opportunity for a first test-drive and to xperience the world of Lamborghini. The Lamborghini Academies, on both rack and ice, provide driver training and the initial steps towards racing. The amborghini Blancpain Super Trofeo series provides the perfect first race xperience for young and gentleman drivers, with the Lamborghini GT3 for ore experienced racers wanting to compete with the Lamborghini marque orldwide.

Further information on the Lamborghini Gallardo GT3 FL2 is available
Commentaires (0)




Postée par admin le Friday 19 October 2012 à 11:40


Team Autovitesse - R.AFFOLTER - SuperTrofeo 2012

Cédric Leimer, racing for Autovitesse Garage R. Affolter, was crowned 2012 Lamborghini Blancpain Super Trofeo champion after the first race of the weekend by securing sufficient points to open an unassailable lead. Dimitri Enjalbert/Bernard Delhez finished as championship runners up fought to the death by Andrea Amici who led a thrilling race two win from the back of the grid. Leonardo Geraci is the 2012 amateur champion. Autocarrozzeria Imperiale SRL took both the PRO-AM and amateur team titles. Alain Delamuraz, Blancpain?s Vice President and Head of Marketing joined Automobili Lamborghini?s President & CEO, Stephan Winkelmann to present the championship awards this afternoon as part of Blancpain?s continuing support of the series for 2013.



Autovitesse looked to have another strong finish in prospect, with Hervé Leimer running as high as P3 before clashes dropped the Swiss driver to 9th in the closing phase of the race. Mike Edmonds took the amateur honours, finishing in fourth place for Automobili Lamborghini Racing Team UK, closely followed by Aristotelis Varvaroussis who brought Heico-Gravity Charouz home in fifth place.


PRO-AM Champion, Cédric Leimer #63, Autovitesse Garage R. Affolter
?I am never 100% satisfied by nature as everybody knows, but when everything is said and done, I am really delighted at how the season has worked out. What I have achieved would be impossible if it wasn?t for the support of Michel (Devernay). This is my fourth season and my second title, which is unbelievable, especially as this season has been a big test, very very difficult and that?s why I wanted to win so much for myself, the team and Michel. The new car we saw today looks amazing, so who knows, maybe we try again in 2013??



Michel Devernay, Team Manager, Autovitesse Garage R. Affolter
?It has been a fantastic season with fantastic drivers and wonderful to win with Cedric. Who would expect that with only four years of racing experience that Cedric would achieve so much? It has been a hugely competitive season but we have a good team and we work hard to constantly learn and improve every race. When you work well as a team, you can do anything.?
Commentaires (0)





Postée par kldconcept le Thursday 03 February 2011 à 17:16


LAMBORGHINI LANCE LE CALENDRIER DE COURSE PouR 2011
LAMBORGHINI BLANCPAIN SUPER TROFEO

Le calendrier 2011 du Lamborghini Blancpain Super Trofeo, le championnat monomarque de Lamborghini, est lancé. La série visitera des circuits à travers l'Europe en 2011, où des professionnels et des Gentleman drivers rendront hommage à LAMBORGHINI, au volant des voitures de courses LAMBORGHINI SUPER TROFEO équipées d'un V10 de 570 Chevaux.



L'année 2011 marque la troisième année du Championnat Lamborghini Blancpain Super Trofeo après deux saisons très compétitives où le titre de la série est resté indécis Jusqu'à l'événement final. La série sera présente sur des circuits particulièrement Difficiles, y compris le fameux circuit de Spa-Francorchamps en Belgique et le circuit H.T.T.T Paul Ricard en France. Un nouveau complément pour 2011, l'ouverture de la de Saison Super Trofeo se déroulera en avril sur un circuit italien renommé : celui de Monza.

Lamborghini continuera son partenariat avec la série prestigieuse du Championnat du Monde FIA GTI en disputant des courses à Silverstone et sur le circuit HTTT Paul ricard. Le Super Trofeo soutiendra aussi la nouvelle Série d'Endurance GT, qui sera lancée par SRO en 2011, comme l'ADAC GT MASTERS et l'International GT Open. LAMBORGHINI et Blancpain continueront également leur collaboration fructueuse, combinant l'ingénierie performante des deux marques complémentaires de luxe.

En raison du haut niveau de compétition dans les saisons précédentes, le format de la série restera le même : chaque week-end comprendra trois courses de 40 minutes, une session de qualification de 30 minute et 40 minutes d'essais libre.

Cependant, une évolution de la série est annoncée; des nouvelles classifications pour les nouveaux pilotes seront présentées en 2011. La concurrence des pilotes sera classifié sous les directives publié par la FIA et se verra attribué selon leur expérience, des couleurs : Platine, Or, Argent ou de Bronze. Lamborghini présentera aussi une catégorie " Rookie " pour les nouveaux pilotes qui n'ont pas participés aux championnats précédents.

"Nous gardons les éléments clés qui ont contribué au succès de la série jusqu'à présent : tout d'abord, notre associé prestigieux Blancpain et deuxièmement notre format de course," dit le Directeur de Recherche et Développement de Automobili Lamborghini, Maurizio Reggiani. "Nous sommes impatients de voir ces Lamborghini Gallardo, version course en piste, pour une saison tout aussi compétitive et passionnante."

2011 CALENDRIER LAMBORGHINI BLANCPAIN SUPER TROFEO

DATE - CIRCUIT - CHAMPIONNAT
- 17 Avril - Monza (Italie) - GT Endurance Séries
- 5 Juin - Silverstone (UK) - FIA GT1 World Championship
- 17 Juillet - HTTT Paul Ricard (France) - FIA GT1 World Championship
- 31 Juillet - Spa-Francorchamps (Belgique) - GT Endurance Séries
- 2 Octobre - Hockenheim (Allemagne) - ADAC GT Masters
- 30 Octobre - Catalunya, Barcelone (Espagne) - International GT Open



La saison LAMBORGHINI BLANCPAIN SUPER TROFEO 2011 débutera en avril. La LAMBORGHINI SUPER TROFEO est une version légère de la Gallardo LP 560-4. La Super Trofeo dispose d'un châssis retravaillé et un moteur V10 développant une puissance de 570 chevaux, ' Iniezione Diretta Stratificata '. La voiture de course dispose de quatres roues motrices permanentes, faisant du Super Trofeo un championnat unique dans la compétition automobile

Lamborghini sera de nouveau associé avec la marque de luxe suisse Blancpain, qui est le sponsor titre de la série. Créant un partenariat parfait entre deux marques prestigieuses et fortement innovatrices.

Pirelli, l'un des plus grands fabricants de pneus au monde, mais aussi le fournisseur unique d'AUTOMOBILI LAMBORGHINI, est un partenaire du Championnat LAMBORGHINI BLANCPAIN SUPER TROFEO.

Pirelli est présent dans toutes les disciplines du sport automobile : Rallye, Circuit et Formule 1, sera pour la deuxième saison un partenaire stratégique pour la séries.

Avec le développement des pneus de hautes performance, Pirelli est le leader mondial tant dans l'équipement que dans le marché des pneumatiques, avec 24 usines dans 12 pays dans le monde.

Commentaires (0)




Page :
[1]
2
3
4
5
6
>