Gallardo GT3 Race
A first view from German motorsport specialists, Reiter Engineering, of the Gallardo sportscar.

The 500+bhp car is being developed for entry in the GT3 category of international sportscar series as either 4-wheel or 2-wheel drive. The image, taken in the early stages of development, clearly shows the distinctive Lamborghini styling of the Gallardo.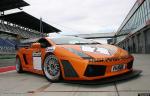 Reiter has already received orders and further considerable interest from privateer customers, and the finished product will be available in February. Further technical details on the race car will be available over the next two months, while a 'street' version of the Gallardo GT3R will follow within the next month.
Last weekend the first derivative of the proposed Gallardo GT3 Race successfully completed a two-day shakedown test in the hands of the newly founded Lambo-Racing customer team. The 4-WD car was developed and built by Reiter Engineering at the customer's request, in time for them to prepare for the start of the 2006 VLN Nordschleife Championship. For further information on the VLN,
go to
www.lambo-racing.de
www.reiter-engineering.com