Postée par admin le jeudi 26 octobre 2006 à 23:11

Automobili Lamborghini enhances management team with strategic appointments
Automobili Lamborghini has strengthened its management team with the appointment of four new directors, joining President and CEO Stephan Winkelmann (42) ...

In the photo: President Stephan Winkelmann, centre, with the Automobili Lamborghini management team.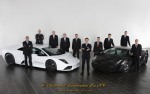 Commentaires (0)




Postée par admin le jeudi 28 septembre 2006 à 19:10

A l'occasion du Salon Mondial de l'Automobile à Paris et pour célébrer la semaine de la mode à Milan, Versace et Lamborghini annoncent le lancement de la nouvelle Lamborghini Murciélago LP 640 VERSACE. Ce modèle exclusif est le fruit d'une nouvelle collaboration entre Gianni Versace SpA et la prestigieuse entreprise de voitures de sport d'exception de Sant'Agata en Bologne. En opérant en contact direct avec les designers de la maison Versace, les spécialistes responsables du programme « ad personam » de Lamborghini, ont crée un modèle qui propose des perfectionnements significatifs pour l'équipement intérieur comparé à la version standard de la Murciélago LP 640. La section inférieure du tableau de bord, les portes, le plafond, la console centrale et les sièges sont tous tapissés dans un cuir nappa luxueux, représentant le motif de la frise grecque, emblème distinctif et immanquable de la Maison VERSACE.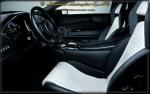 Commentaires (0)




Postée par admin le mardi 19 septembre 2006 à 21:28

Lamborghini presents the Gallardo Nera at the Paris Motor Show


A special edition of the super sports car with limited production of 185 units
Automobili Lamborghini has unveiled its new, exclusive model, the "Gallardo Nera", which is based on the Gallardo Coupé Model Year 07. This special edition model, limited to 185 units, is an impressive showcase for the extensive individualisation options offered by Lamborghini's personalisation service "ad personam", which transforms each and every Lamborghini into a unique vehicle. Ad personam provides a wealth of options for enhancing the interior and body of the vehicle according to specific personal tastes. Other individualisation requirements can also be met, such as special colour paintwork.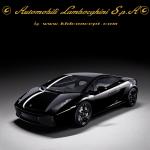 Commentaires (0)




Postée par admin le lundi 18 septembre 2006 à 21:31

Automobili Lamborghini: quality certification achieved
Automobili Lamborghini SpA has achieved further recognition for corporate excellence, gaining the quality certificate ISO 9001:2000, issued by DNV (Det Norske Veritas), an international certification leader. This acknowledgement follows a careful audit carried out by DNV specialists, which confirms the company's compliance with all the requisites provided for by quality management system regulations. More specifically, the certification covers design and production, as well as after-sales services, in conjunction with luxury cars. The certificate was presented today by Claudio Coltelli, DNV's Bologna Unit Operation Manager, to Stephan Winkelmann, President and Chief Executive Officer of Automobili Lamborghini SpA, at a ceremony held at the car manufacturer's Sant'Agata Bolognese headquarters.
Commentaires (0)




Postée par admin le lundi 11 septembre 2006 à 21:06

Lamborghini Driving Academy at Mach One to Three – track experiences and Lamborghini Winter Academy in Europe and USA
A driver training as extreme as the Sant' Agata super sports cars themselves: that is what the Lamborghini Academy is all about. Following the highly successful Winter Academy, Automobili Lamborghini has launched its Track Experiences programme for the autumn of 2006, available to both Lamborghini customers and those who wish to experience the adrenaline of driving a high performance car to the best of their abilities. Three different track-based programmes have been developed to allow drivers to explore both their own limits and those of the technology-leading, high performance Lamborghini models they will drive. Even the course names are an indication of the dynamics the participants will face: Mach 1, Mach 2 and Mach 3. Under the expert guidance of professional instructors, students will conquer the famous Italian racetracks of either Mugello or Misano, depending on the course they select. Maximum driving experience is assured: a fleet of fully prepared Gallardo cars is optimised for the circuit, and participants limited to 16 in each group. Students are supported in the learning process by telemetric timekeeping throughout, with a theory session preceding every course. The only condition for participation is a valid driving licence. The courses in detail: ...
Commentaires (0)





Page : < 1 2 3 ... 25 [26] 27 ... 30 31 32 >